Loredana Niculae
Strategic Cooperation at European level for the Outsourcing Sector Development
NNC Services in Partnership with Pro Progressio Launched the Romanian Version of the OutsourcingPortal International platform 
Bucharest, November 10th 2016 – The largest collaboration and promotion platform dedicated to the Central and Eastern Europeean Outsourcing Industry has been launched in Romania by NNC Services and its strategic partner, ProProgressio Foundation. The Romanian version of the international platform has been launched today in the presence of both partners and of the Romanian Association ANIS (Association of Software and Services Industry.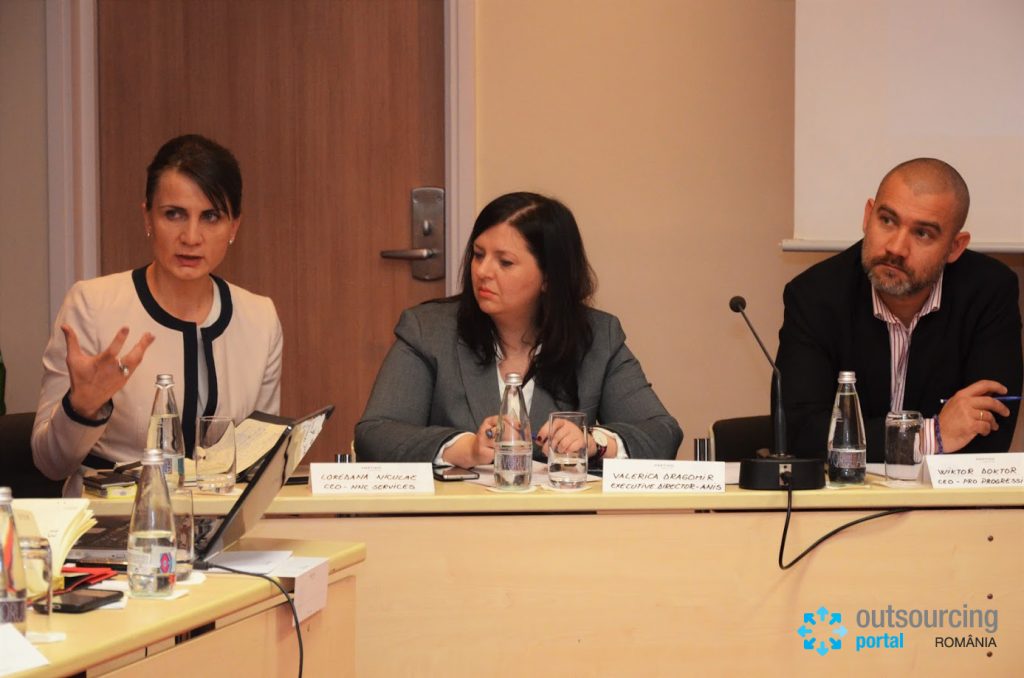 OutsourcingPortal.ro is a project based on a strategic partnership between NNC Services Romania, leader in marketing consulting services for IT and services companies and the Pro Progressio Foundation, developed  with the mission to promote, educate and support all the players of the Romanian outsourcing market.
Romania, from an interesting destination for outsourcing companies to a destination whose success was already proved
Romania hosts over 100,000 of the 600,000 employees in the outsourcing industry from Central and Eastern Europe. Romania is currently ranked 13th, five positions up since 2015 in the Global Services Location Ranking, being ahead of Hungary (32th), Czech Republic (26) and Ukraine (24th place) and just three positions away from Poland (10th).
The ascending trend brings a number of challenges for Romanian companies, such as insufficient human resources or the need of an increased visibility in the region. OutsourcingPortal meets the industry players` needs, acting as a tool for local and regional collaboration which aims to address most of these challenges.
OutsourcingPortal.ro – a complex platform with advanced features for promoting Romanian outsourcing companies
OutsourcingPortal.ro is an initiative to create a structure of support for Romanian companies in the outsourcing industry. Through this collaboration platform, the two partners' objective is to support the global growth and development of all Romanian players who work in the outsourcing industry or are intersecting with it, based on the model already validated at European level by the international platform OutsourcingPortal.eu. The main beneficiaries of this platform are SSC, BPO, ITO, Call & Contact Centers and software developers.
OutsourcingPortal.ro aims to support and to generate a sustained growth of the Romanian outsourcing industry, by:
• promoting an active dialogue between all players in the industry;
• creating a strong communication path between the public and private sectors;
• increasing companies' exposure among potential employees and partners;
• presenting valuable information of the Romanian market and global outsourcing trends
"The outsourcing industry has to be supported by local, regional and international associations but also by media channels. Within the last six years, OutsourcingPortal became the most important outsourcing industry web platform in Poland. Each day we share the most important news, reports, interviews, business cases. We keep our community informed about most valuable outsourcing business events, meetings and seminars. Now at our sixth anniversary, thanks to our exclusive Partner – NNC Services – OutsourcingPortal is launched officially in Romania.  Together with NNC Services we are going to support the Romanian outsourcing industry to grow faster, communicate better and be more visible on the European outsourcing landscape",  said Wiktor Doktor, CEO, Pro Progressio Foundation.
"It is the time for Romania to become a brand on the global outsourcing market and NNC Services has committed to reaching this target. It is the time for local players to have a platform for education, promotion and collaboration in order for them to effectively grow on international markets", says Loredana Niculae, CEO, NNC Services.
***
For more information, please contact us:
Ionela Puf
Media Relations Manager
NNC Services
T/  +4 (0756) 085 510
About NNC Services
NNC Services is a leader in marketing consultancy for B2B companies in the IT and services industries. Founded in 2006, NNC currently has offices in the USA, Romania and Austria. The company integrates strategic marketing solutions to ensure measurable results through B2B List Building, Content Marketing and Social Media Marketing. NNC Services' client portfolio include: OSF Global Services, Enea, Sistec, ZebraPay, Arnia, Winfo, Logik, Fortech, etc.
About Pro Progessio Foundation
Pro Progressio Group supports the development of entrepreneurship in Poland, with particular emphasis on the business services sector (BPO, SSC, R&D, Call Contact Center etc). Through the cooperation with public and private institutions in Poland, but also with international organizations, the group supports local business` development. These institutions include service providers, training and consulting companies, recruitment agencies, real estate developers and universities.